Decks & Daggers
A downloadable DecksAndDaggers for Windows

Welcome to Decks and Daggers! A Deck-Building RPG Card Game where you venture down into the dungeons to slay monsters and collect treasure!

Every hero has a unique set of cards. The Barbarian relies on brute force to defeat enemies. The Witch has a wide variety of curses and tricks at her disposal. While the Wizard has an assortment of spells that can be combined to devastating effect.



After every quest, you'll have the option to visit the tavern. At the tavern you can buy new cards from a shady merchant ( no in-app purchases).
Optimizing your deck greatly increases the chances you'll survive in the dungeons.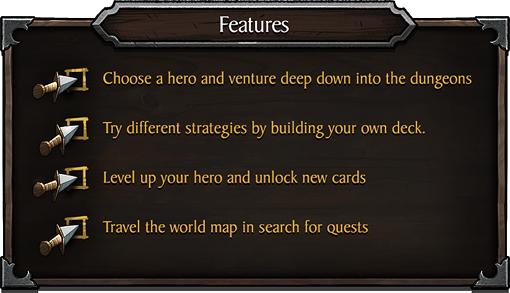 Decks & Daggers is currently in EARLY ACCESS. There is a FREE version available and a PREMIUM version.
The Premium version contains: more cards, an extra hero (The Witch), an extra enemy (Dire Wolf) and a separate journey on the worldmap.


To install the game:
Download the zip file
Unzip the file
Launch "Decks and Daggers.exe"

Have fun playing!

Mikel Fick - Osarion

Download
Click download now to get access to the following files:
Decks and Daggers.zip
103 MB
Decks and Daggers (Premium).zip
103 MB
if you pay $6 USD or more
Comments
Log in with itch.io to leave a comment.
Eagerly awaiting the witch update!
The Witch is now available!
Superb update! Witch has cool combos and skills. I like collecting both of the buff+1 cards, and playing them together, so the second one becomes +2, adding a combined +3 to your other cards.
Artwork is top notch again. I love how the witch becomes the old evil hag when she gets hurt 😁
Hello fellow dev
This is a very well-made game. I was already getting quite addicted. I could easily play a full game.
I love the artwork style. Great work. You definitely have some talent. Perhaps I could hire you to do some small artwork tasks for me? 😊
Keep up the good work.
Thank you! Means a lot. Releasing a game out in the open for the first time is always a nerve-racking moment, so I appreciate the comment + rating. You can always drop me a line when you need some work for hire stuff done. Good luck with your game development!
Very interesting premise. Played a few levels, good spin on a solo kind of card game.